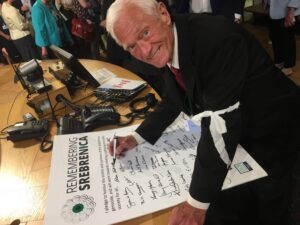 We are sad to advise of the death of our friend and supporter Alan Witcutt.
Alan had a long connection with Bosnia having been an aid volunteer there during the war. In 1993 his wife Christine Witcutt was killed by a sniper as their convoy left Sarajevo.
Alan dedicated his life to raising awareness of the balkan conflict, about the hatred that sparked the war and speaking about his own journey to forgiveness for the man who killed his wife.
Alan was an exemplar to us all and he attended and spoke at a number of our events. You can read an obituary of Alans remarkable life here.