Lena qualified as a teacher in 1993 and has since held a wide range of teaching and leadership roles across the 2 to 18 age range. Her specialisms have been Modern Languages (French and German),
Drama and Pupil Support and she was also Care Experienced and Children's Rights Lead for her local authority for 2 years.
Lena gained the Standard for Headship/Into Headship in 2016 and Professional Recognition for Values Based Leadership in 2021, having attended the Columba 1400 Leadership Academy.
She plans to complete my Masters in Critical Enquiry next session.
Lena tweets as @lenabellina and writes a blog LenaBellina where this post was first published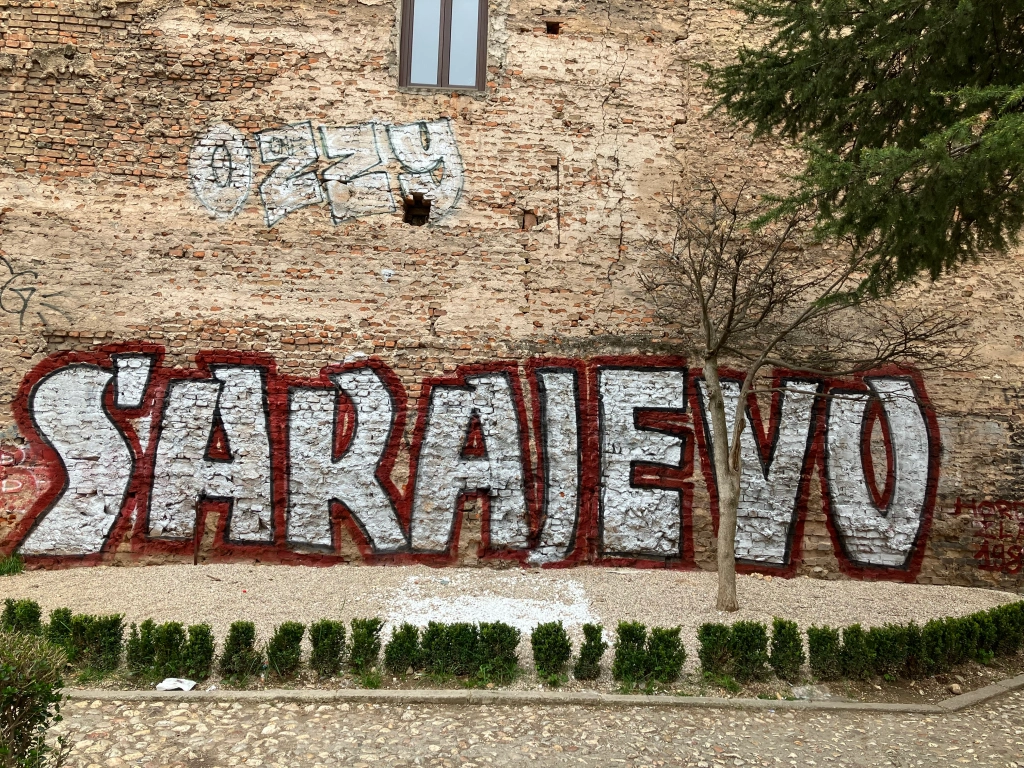 A short week ago I was in Bosnia.
I was there as part of an education delegation with Remembering Sebrenica Scotland, the charity which works to ensure that the stories of what happened in Bosnia in the 1990s are not forgotten and that we do not allow the atrocities that happened to be repeated.
Home – Remembering Srebrenica (Scotland)
We were based for four nights in Sarajevo and had the opportunity to learn first hand about the four year siege of the city from our incredible guide Suvad Cibra. He had been four when the siege started, his family members had been the victims of ethnic cleansing and he had lost his father to the conflict as a young boy. He is an astonishing man: honest, highly intelligent, passionate about education and determined to remind the world about Sarajevo's past.
Sarajevo is a beautiful, cosmopolitan, vibrant city, where religions and cultures live side by side and Eastern and Western traditions and flavours mix in a way that is truly inspiring to see. It was also a privilege to be there during Ramadan and to experience the holiest month in a city that has such a large Muslim population.
It is a city with a tragic history that has far from disappeared, however. Buildings are still marked with shell and bullet damage and it was difficult, when driving through the streets, not to recall the haunting images of the conflict that beamed from our TVs through the 90s.
But forgetting is not an option in Sarajevo. At almost every corner there is a banner, sign or poster that provokes remembering. The numerous museums that chronicle genocide, war and holocaust also provide a different type of tourist experience to most other European cities except perhaps Amsterdam or Berlin.
If it hadn't been for the siege, most tourists would almost certainly assign the street where Archduke Franz Ferninand's murder sparked the start of World War One to the top of their "things to see in Sarajevo" list. But as it is, the dramas of that June day in 1914 pale somewhat alongside the sites of more recent historical events.
The main focus event of our trip took place last Saturday, when we travelled to Srebrenica.
As stated on the Remembering Srebrenica website, "the name Srebrenica has become synonymous with those dark days in July 1995 when, in the first ever United Nations declared safe area, thousands of men and boys were systematically murdered and buried in mass graves. The victims, who were Muslim, were selected for death on the basis of their identity. This was the worst atrocity on European soil since the Second World War." (Source: Remembering Srebrenica – Remembering the Bosnian Genocide)
We visited the museum and memorial centre that tells the story of the massacre and the graveyard where the bodies (or those that have, to date, been recovered) are buried. Srebrenica Memorial Center
It was harrowing. We heard from survivors of the genocide about what happened, viewed video footage of the ethnic cleansing and killings and walked around the areas where the atrocities took place.
I found myself overwhelmed, embarrassingly so, weeping uncontrollably in the presence of the story tellers who themselves survived such unimaginable trauma and yet tell their truths factually and with immeasurable courage.
We had the great privilege of meeting Fadila Efendić, one of the group "Mothers of Srebrenica", who lost her husband and son in the genocide and whose story you can watch here: https://zivotiizapoljasmrti.srebrenicamemorial.org/en/fadila-efendić
We were also shown around the memorial centre by Almasa Salihovic, a survivor of the genocide whose narration of the history of the centre was tragically illustrated by references to the murder of her own male relatives.
And finally, we met and heard the story of Nedzad Avdic, one of the tiny minority of males who survived the genocide. His story is one of physical and psychological resilience personified, all in the face of unimaginable human yet utterly inhumane actions. Nedzad is unbelievably courageous man who has written a book about his experiences which we very much hope will be translated into English soon.
The idea behind our visit is that we share our experiences and do not allow the world to forget this dreadful part of history and that lessons are learned. When we first signed up for the trip, I was a secondary teacher and would have been able to deliver assemblies and lessons to my pupils as part of the curriculum with direct reference to my experiences on the trip. But since our spring 2020 visit was postponed due to COVID-19, I have moved into a role as primary head teacher of two rural schools and spend most of my days with 5 to 11 year olds.
So, what have I done in this first week back to ensure that the impact of my experience and learning is assured?
I have shown the children my photos and talked passionately about the spirit of Sarajevo.
I have taught them about Ramadan and Islam and let them hear my recordings of the call to prayer that made my spine tingle every time I heard it last week.
I have talked about the huge commonalities between faiths, the importance of understanding and loving others and the need to regularly stop and ask whether our actions are kind, generous and peaceful.
There has been no mention of the genocide or war, yet and I will need to carefully consider how I might talk about these to the older pupils in my two schools.
But I have committed to organising some talks about my trip and learning in my community. And above all, I have re-confirmed my commitment to running two schools which are nurturing, restorative, trauma-informed and at the heart of their communities.
The only way that we can make "never again" a reality is through education. Education that promotes integrity, honesty, empathy and a power in each of us to speak up when we see harm being done.
It starts with children and ends with adults.
I am hugely grateful to Robin MacPherson and Remembering Srebrenica Scotland for allowing me to take part in this life-changing trip.
I am also indebted to Christine Couser, Neil McLennan, Robert Macmillan, Jenny Revell, Stephanie Morrison and Robin who were the perfect companions on this trip and equally committed to changing the world one child at a time.
This is a poem I wrote on the bus back from Srebrenica:
Written, it will be remembered.
Lest we forget
So weighty
Or not.
How can we save the words
Others forgot?
Spoken so gently
Into the wind
Drifting away
Along valleys
Through forests
And floating on up
To the tops.
Then over the summit
And gone.
Talk about us
You say next, not so gently.
When you go to your homes
Tell your families about us.
They're taking our language
Our children are voiceless
But your words may fall on
The right ears.
Of ones who may listen
Of ones who can act
Of ones who will trust that it happened.
And after they listen then pick up your pen
For written, it will be remembered.
And shaped into words
Forged and never forgotten
Not erased or deleted
But believed and repeated.
Til you and I live
And we love and we give
Our stories and words and
Our faith once again.
In ourselves and in others
Our sisters and brothers
So darkness will give way to hope.